Catering
Dining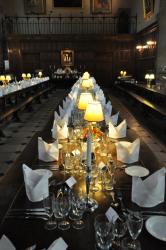 Our Medieval hall is the oldest of any Oxford or Cambridge College and has a dining capacity of 220. It is fully accessible. The Cloisters, Founder's Library and Undercroft can also be booked for special dinners and events.
Meals are normally served at the following times although changes can be made to fit in with lecture and seminar programmes:
Breakfast in Hall: 8.00-9.00am
Morning coffee in the Junior Common Room: 10.30-11.00am
Buffet lunch in Hall: 1.00-2.00 pm
Afternoon tea in the Junior Common Room: 3.30-4.00pm
Dinner in Hall: 7.00 pm.
Sample menus for conference banquets and special dinners
We offer a selection of special menus for conference and corporate dinners to suit most budgets and we carry a wide range of wines in our cellar. You can download our sample banqueting menus.