Visits and Open Days
Visiting New College
Prospective applicants are always welcome to look around when the College is open, simply let our Porters know on arrival.
Open Days
Open Days offer the perfect opportunity to look around both the college and university. You can meet our tutors and current students, and speak to the Admissions Officer about the undergraduate admissions procedures. 
The next Open Days will take place on Wednesday June 27th and Thursday June 28th 2018.  During the Open Days, most Oxford Colleges and Departments will be open to prospective students. For full details of what is on across the University, please check the Open Day Guide on the main University website. 
At New College, our team of friendly undergraduates will be offering tours of the college from 10am - 4.30pm. They will also be available to answer any questions you might have about student life and their own experiences of studying at Oxford. The Access and Admissions Administrator will also be available all day to answer your questions. As well as meeting our students, visitors will have the opportunity to meet our tutors at subject-specific talks scheduled throughout the day.  There is no need to book for these talks and a complete timetable will be available in May.  Accommodation, in the first instance, will be offered to those schools who are participating in New College's "Step Up" programme.  After this, if any rooms are available, they will be allocated on a first-come, first-served basis.  Please note that no bookings will be taken until May 2018.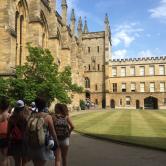 Please note that all Open Day visitors should enter the College via the Visitors' Entrance on New College Lane, not via the Porters' Lodge on Holywell Street.   
For general enquiries about New College Open Days, please contact the Admissions Office.
The timetable for subject talks and the organisation of the Open Days at New College is available here.