Widening Access and Outreach
New College is committed to admitting the very best academic applicants, regardless of their social, ethnic, regional or educational background. Through our Outreach Initiative, we hope to encourage applications from students from groups that are currently under-represented at Oxford.
Although not all students will feel that Oxford is the right place for them, we believe it is important that they make a well-informed decision based on up-to-date information about living and studying at the University and that they are not deterred by misconceptions of myths about Oxford being socially exclusive, overly expensive, or unfriendly.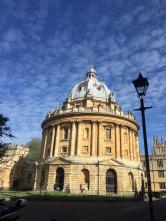 New College's Access and Admissions Administrator, Daniel Powell, provides support and advice for prospective undergraduate applicants, teachers, schools, and anyone else interested in learning more about undergraduate study at the University of Oxford. Daniel works with students, parents and teachers to encourage bright students from all backgrounds to apply to the University of Oxford. 
He can be contacted at admissions@new.ox.ac.uk, or on 01865 279512. Please get in touch if you have any questions about applying to Oxford, or if you would like to arrange a visit, or other event. 
Make sure to follow our Access Twitter page for lots of useful resources and to stay up to date with all the latest news - twitter.com/Newcollaccess
Oxford University: Open to All: Teachers' Conference
On Tuesday July 4th 2017, New College hosts its  inaugural teachers' conference. This event will inform state-school teachers about the work that is currently being done in Oxford in order to widen participation and to encourage state-school applications to Oxford.  It will also provide teachers with opportunities to learn about how they can support their students who are considering applying to Oxford. If you are state-school teacher, and would like to attend, please download the invite and appropriate forms by clicking on the PDF below.