George Ratcliffe
Tutor in Biochemistry; Professor of Plant Sciences; Tutor for Graduates and Graduate Admissions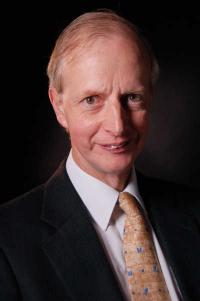 george.ratcliffe@new.ox.ac.uk
Educated at several schools in the North of England and Scotland, and trained as a chemist, George Ratcliffe subscribes to the view of his mentor R.J.P. Williams that 'Biology is the search for the chemistry that works'. He is currently Associate Head of Department in Plant Sciences and one of the College's nominated Trustees on the Harpur Trust (formerly the Bedford Charity).
Teaching
As well as covering a range of topics for the Biochemists and Biologists in College in tutorials, Professor Ratcliffe contributes to the lecture courses and practical classes in both Biochemistry and Biological Sciences in the Departments of Biochemistry, Plant Sciences and Zoology. He also supervises Biochemistry Part II research projects.
Research Interests 
Professor Ratcliffe has a longstanding interest in heterotrophic plant metabolism, with a focus on the organisation, regulation and function of the central metabolic network. He has a particular interest in the measurement and prediction of intracellular metabolic fluxes – the flows of material through the network that are crucial in determining the performance and productivity of cells and organisms. Fluxes can be deduced using a suite of computational and experimental tools, and the resulting metabolic phenotypes can be used to provide a system-wide view of the impact of genetic intervention and environmental perturbation in wild type, mutant and transgenic plants.
Selected Publications
L.J. Sweetlove et al. (2010) Not just a circle: flux modes in the plant TCA cycle. Trends in Plant Science 15, 462-470.
L.J. Sweetlove and R.G. Ratcliffe (2011) Flux-balance modelling of plant metabolism. Frontiers in Plant Science 2:38. doi:10.3389/fpls.2011.00038
N.J. Kruger, S.K. Masakapalli and R.G. Ratcliffe (2012) Strategies for investigating the plant metabolic network with steady-state metabolic flux analysis: lessons from an Arabidopsis cell culture and other systems. Journal of Experimental Botany 63, 2309-2323.
C.Y.M. Cheung et al. (2014) A diel flux balance model captures interactions between light and dark metabolism during day-night cycles in C3 and Crassulacean acid metabolism leaves. Plant Physiology 165, 917-929.
N.J. Kruger and R.G. Ratcliffe (2015) Fluxes through plant metabolic networks: measurements, predictions, insights and challenges. Biochemical Journal 465, 27-38.