Accommodation
Currently, New College provides accommodation in or close to college for all undergraduate students in their first, second and fourth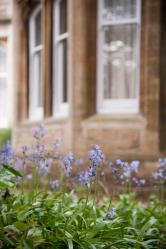 years. A small number of third year undergraduates can also be accommodated. Accommodation for continuing students is allocated by means of a ballot - the terms of the ballot may change from year to year to reflect changes in the undergraduate population.
Currently, a reasonable number of graduate students who are not graduates of Oxford University can be housed in College accommodation in their first year with some chance of a second year of housing. Students who are new to Oxford are normally prioritised over those who are Oxford graduates, and therefore Oxford graduates may not be successful in obtaining College housing in their first year. Accommodation for continuing graduates is allocated by means of a ballot - the terms of the ballot may change from year to year to reflect changes in the graduate population.
Students will need to bring their own duvets, pillows, duvet covers, sheets and pillow cases. Alternatively, bedding can be purchased online at https://www.unikitout.com/?uni=New%20College%20Oxford and sent to the College in advance of your arrival. You should use the code OXNEW17 for 10% discount at check out. Please ensure that your name and status (Postgraduate or Undergraduate) are clearly given when ordering. The delivery address is New College, Oxford, OX1 3BN. A small number of student rooms have double beds so you should check with the Accommodation Manager before ordering.
Storage - unfortunately the College cannot offer storage facilities in term time or during the vacations. You are advised to ask the Accommdoation Manager about reasonably priced storage services in the city.
The end of term
Please note that when you leave College at the end of term, you are required to hand your key back in and sign out (it is important that you do not hand your key in if you go away during the course of your occupancy period as your room will show as available for re-letting on the system). College Regulations state that if you fail to vacate and empty your room at the end of term, and have not arranged vacation residence, you will:
be charged the conference rate of £72 (excluding VAT) per day for the days when you were not expected to be in residence
be charged £50 for failing to return your key when leaving College
...so it's important you remember your responsibility to sign out properly and hand in your key!
Students should know about the Universities UK approved code of practice for student accommodation. This sets out basic standards for student accommodation in Higher Education Instutions, such as the Oxford Colleges. 
You can find out more information by going to the Universities UK code of practice website 
.